WHY CHOOSE 1300 CLEANING GROUP FOR YOUR BRISBANE ROOF CLEANING?
We clean colorbond, tin, zincalume, concrete tile, terracotta or glazed tiled roofs. On all our Brisbane Roof Cleaning jobs, we use our tried and tested Soft Wash technique rather than the old fashioned, damaging gurney pressure washing.
Our roof cleaning experts clean, treat and eradicate the causes of your dirty roof. Moss, algae, lichen, mould and mildew can lead to long term and expensive damage, if left untreated.
Our chemical blend is applied at low pressure and rinsed off with our whirlaway under low to medium pressure.  Therefore, this is particularly important with painted roofs that will be left completely stripped of colour, by using high blasting methods.
Soft Washing will kill all mould and lichen spores that high pressure water on its own, will not remove. Soft Washing will increase the long term look of your roof. The roof is sanitised and will eradicate the mould and lichen spores.
Our two stage process will give instant results unlike some long duration chemical cleaning agents currently on the market. In other words, our treatment is quicker and safer for you, your home and the environment.
We are customer focused, prompt, reliable, competitively priced, professional and good at our job!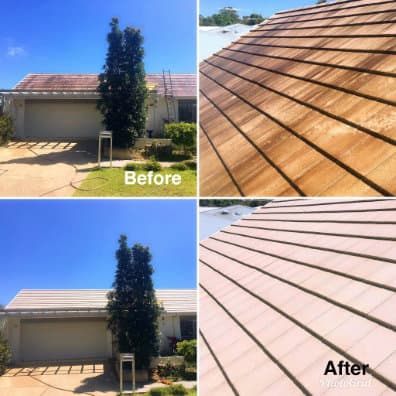 OUR BRISBANE ROOF CLEANING 100% CUSTOMER GUARANTEE
We are so confident that you will be completely satisfied by our Brisbane roof cleaning service that we offer a 100% guarantee. We will return to your property, for no additional charge, in the unlikely event that you are not satisfied first time.
OUR BRISBANE ROOF CLEANING FIXED PRICE PROMISE
We have all been hit by nasty, hidden charges but we are like you, we hate them. That's why when you get a quote from 1300 Cleaning Group for your Brisbane roof cleaning job, the price on our competitive quote is what you pay.
ROOF CLEANING BRISBANE SAFETY
Attempting to clean your own roof can be dirty and time consuming and risky and dangerous with serious consequences.
We are qualified and trained professionals with our own safety equipment, and are fully insured upto $20,000,000. 1300 Cleaning Group Brisbane roof cleaning technicians all hold a Working at Heights Certification.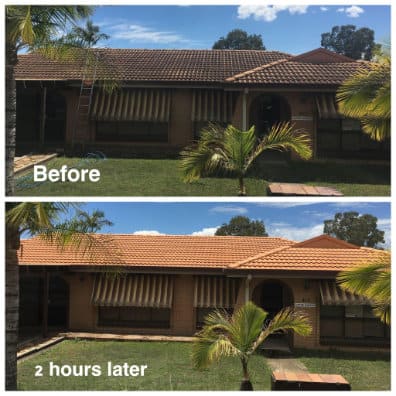 AREAS COVERED
We work across the whole Brisbane region, covering every suburb.
If you are looking to get your Brisbane roof cleaned, be sure to fill out our enquiry form and we'll get back to you promptly or if you prefer to speak to one of our friendly team, in our permanently manned office, call us on 1300 10 12 13
OUTSTANDING RESULTS. FAST AND RELIABLE SERVICE 7 DAYS A WEEK.
Call us on 1300 10 12 13 for a free, no obligation quote.