Roof Cleaning Brisbane
If you're looking for a reliable, professional and established Brisbane roof cleaning company, you've come to the right place. With over 20-years experience cleaning Brisbane roofs, we absolutely guarantee we're the best in the business. Your Brisbane home's roof deserves the best care and attention. Not only is it important to clean your roof from an aesthetics point of view, but also to prevent potentially costly damage. This is where our soft wash roof cleaning service comes in.
Can you see grime and dirt build up on your roof? Perhaps black streaks or even mould are visible? These types of issues are not ones you leave to fester. They are unsightly and harm the external appearance of your property. Even worse, a lack of maintenance can result in cracks and holes, and that stops your roof from functioning as expected. It also leads to expensive repair costs.
With the assistance of 1300 Cleaning Group, you can forget about such problems. We can get your roof in top condition with our professional roof cleaning service.
Why You Should Never Pressure Wash Your Tiled Or Colorbond Roof
Instead of pressure washing, it's recommended to use gentler cleaning methods, such as soft washing or chemical treatments, performed by professionals with experience in roof maintenance. These methods effectively clean the roof without causing harm to its structure and materials, ensuring a longer-lasting and more trouble-free roofing system. Remember, preserving your roof's integrity and warranty should always take precedence over a quick fix.
There are several reasons why you wouldn't want to pressure wash your Brisbane roof.  Firstly, and perhaps most importantly, pressure washing can damage your roof.  The high pressure water streams and easily damage tiles, colorbond and tin.  A result of damaged roofing materials can see water intrusion to your property that can lead to costly repairs and a huge amount of inconvenience.
Sure, if you were to pressure wash your roof you would definitely see results, but for how long?  Pressure washing any surface is only a temporary fix.  Chances are you will experience regrowth of lichen and moss without the proper chemical treatment. 
The alternative to pressure washing is soft washing.  We only ever use this technique when cleaning Brisbane Colorbond & Tile roofs. Read on to learn about the benefits of soft washing.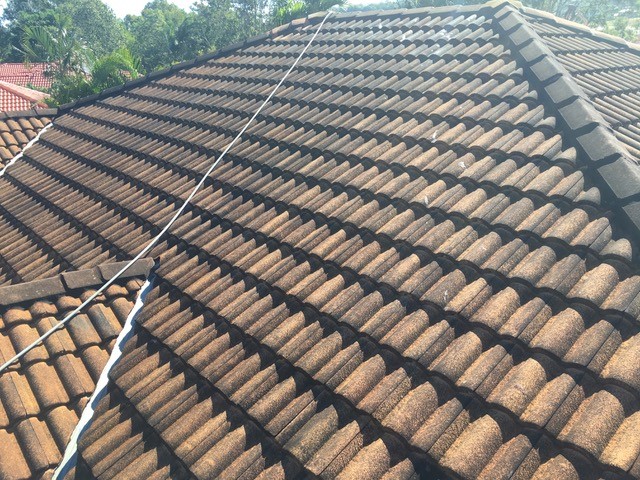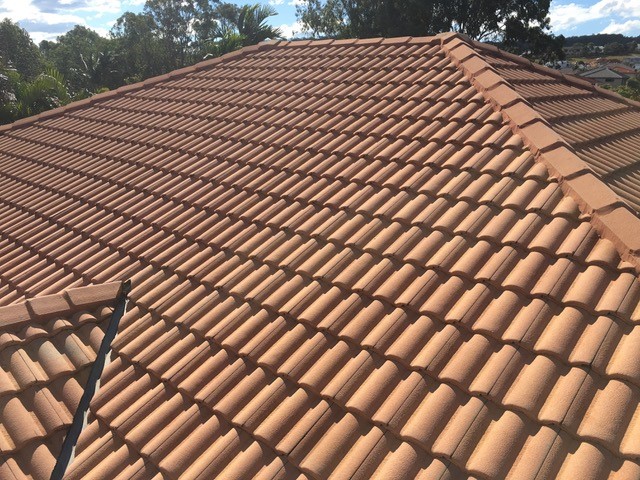 Roof Cleaning Brisbane: Why Soft Washing is the Right Solution
You may have seen other Brisbane roof cleaning companies claim pressure-washing techniques are more effective for washing a property's roof. Yet pressure washing is a risky strategy, particularly when it comes to delicate roof materials. All it takes is for the water pressure to be a tad too high for it to cause damage to the roof.
That is not the situation with soft washing. Forget about old-fashioned, damaging pressure washing. Our soft washing technique, which has been perfected over the years, is the ideal way to eradicate moss, lichen, algae, mildew, and mould from your roof.
The process begins when our special, safe chemical blend is applied to the roof at low pressure. Once this has set and taken action against all dirt build-up, a whirlaway is used to rinse the roof and leave it looking as good as new.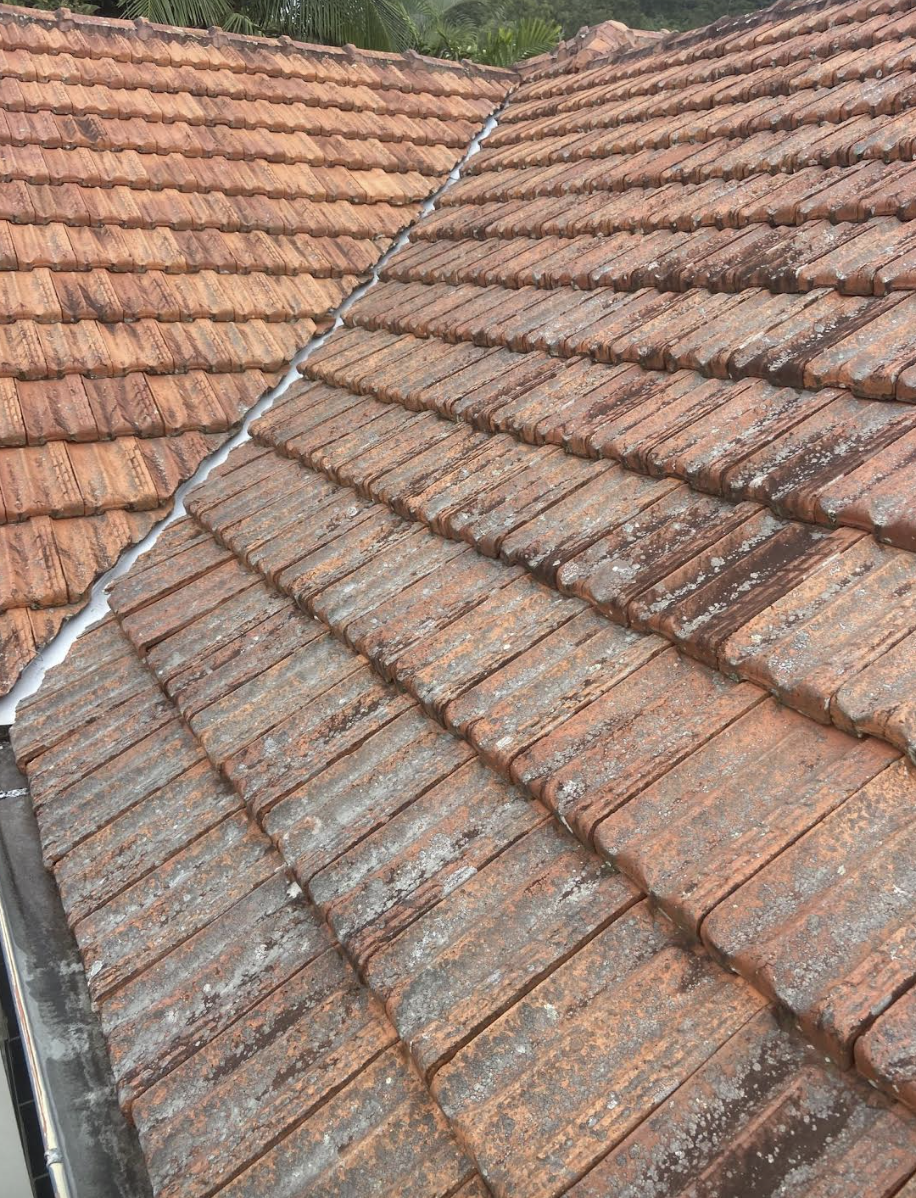 The benefits of soft washing for Brisbane roof cleaning
Effective roof sanitisation: Unlike other methods, soft washing is successful in removing all mould, lichen, moss, etc., without any further treatment solutions.
Long-term results: Due to how soft washing gets into small crevices to deal with dirt lurking underneath, it results in a complete clean. This leads to long-term results where your roof remains in pristine condition for years to come.
Instant solution: There's no waiting around for your roof to be clean. Unlike long-duration chemical cleaning agents available on the market, our two-stage process delivers instant results.
A safe choice: The chemical blend we use for soft washing has been selected with safety firmly in mind. Not only is it safe for both you and your home, but also for the environment.
Protect your roof: The low pressure of soft washing helps to protect the condition of your roof. No tiles will be damaged, no colour will be stripped from painted roofs – it is a treatment that's kind to your roof in every way.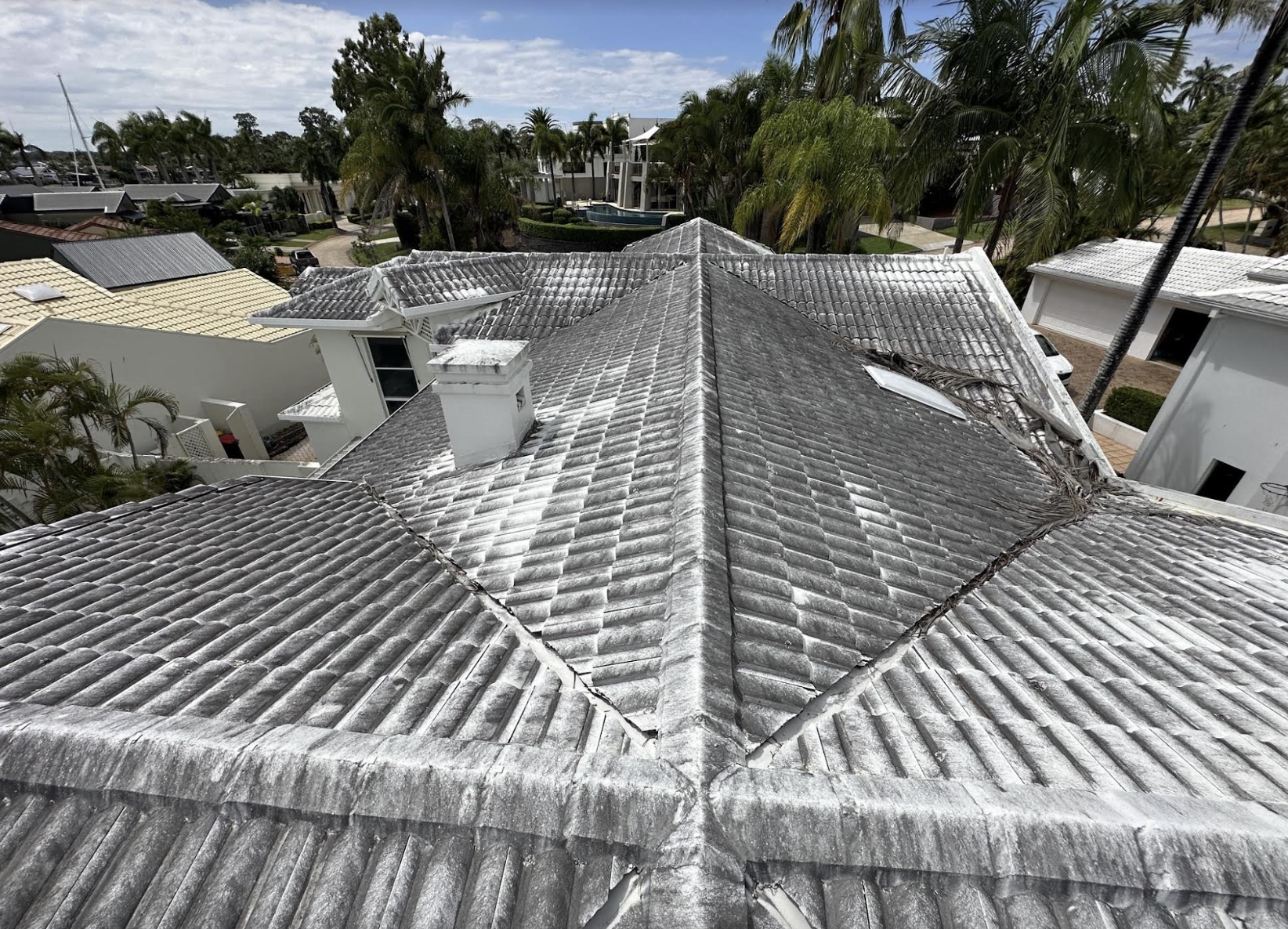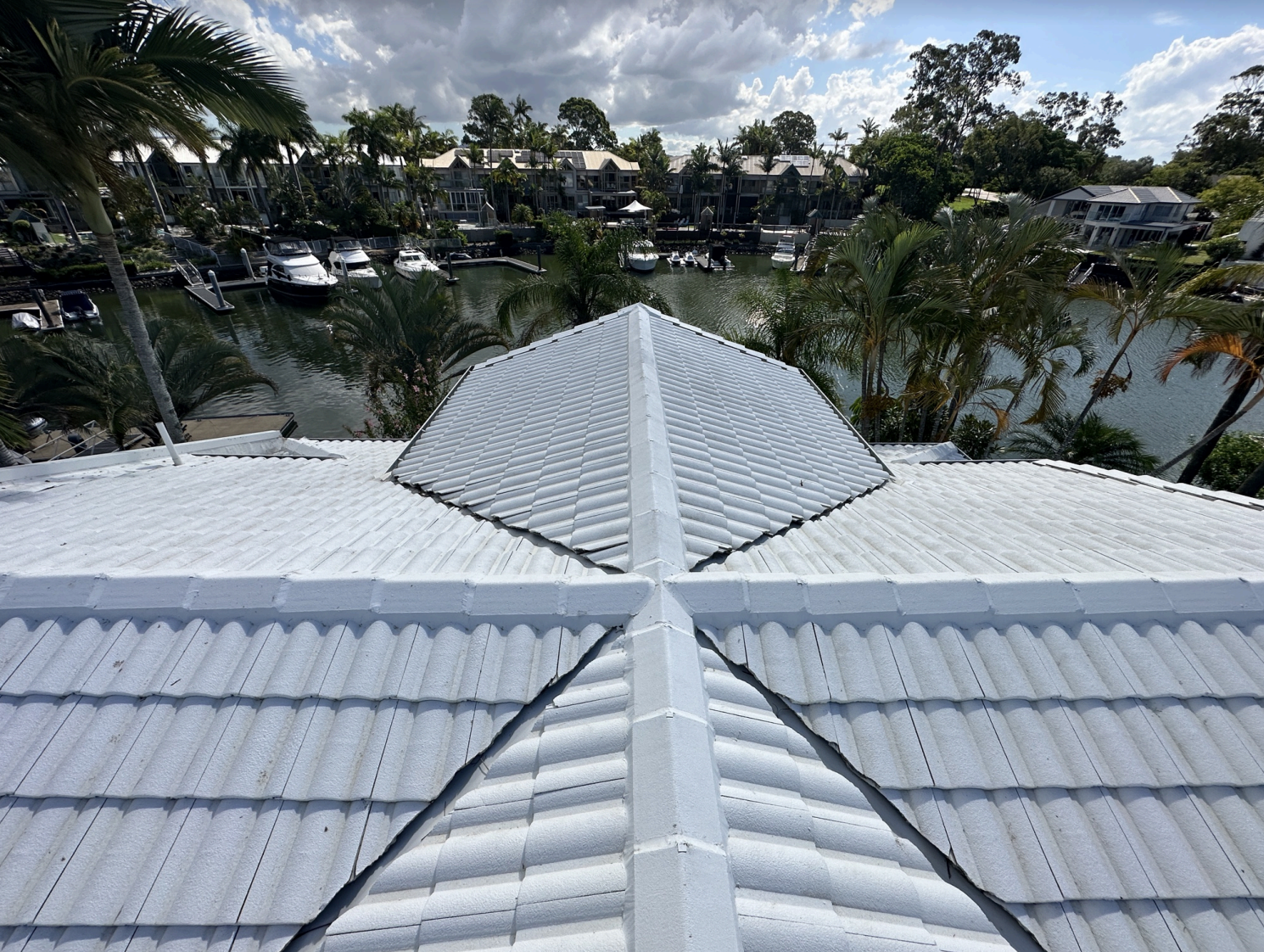 The Reasons to Choose 1300 Cleaning Group for Your Brisbane Roof Cleaning Needs
When you select a local Brisbane roof cleaning service, you want to be safe in the knowledge you have selected the best provider available. At 1300 Cleaning Group, we take great pride in being five-star rated by our customers. Many customers ask us if it's worth getting their roof professionally cleaned. Here are just some of the reasons why customers continue to place trust in us for their Brisbane roof cleaning needs:
Service that's the best in class: Our approach to service cannot be beaten. Along with professional, friendly, and qualified cleaning technicians, we ensure your roof is cleaned 100% effectively.
Competitive pricing: We always remain competitive with our approach to pricing. There are also no hidden costs that bump up the bill. The quote you receive is the price you pay.
Prompt and reliable: As part of our superior service, we make it our mission to always arrive promptly at the time given. This reliability also extends to our cleaning process, where it is done with speed – without sacrificing quality.
Flexibility to meet your needs: We are always flexible with our customers. Do you need us to arrive at a certain time? Perhaps you won't be home when the job is planned to be done? That's not a problem on our end. We are happy to accommodate your needs.
No corners cut: Going above and beyond is what we always do at 1300 Cleaning Group. No corners are ever cut when we do a roof cleaning job. This includes everything from ensuring your roof is 100% clean to using the right safety equipment.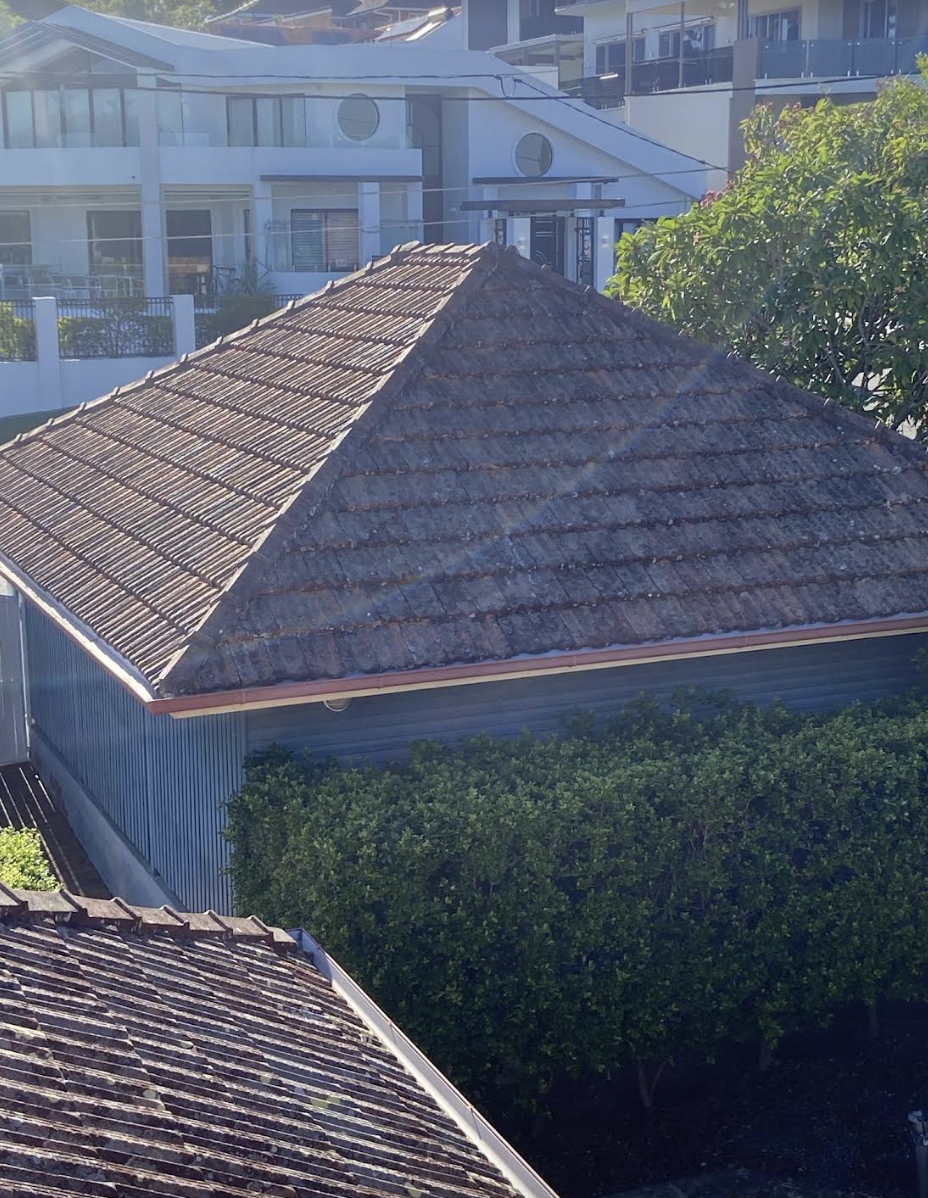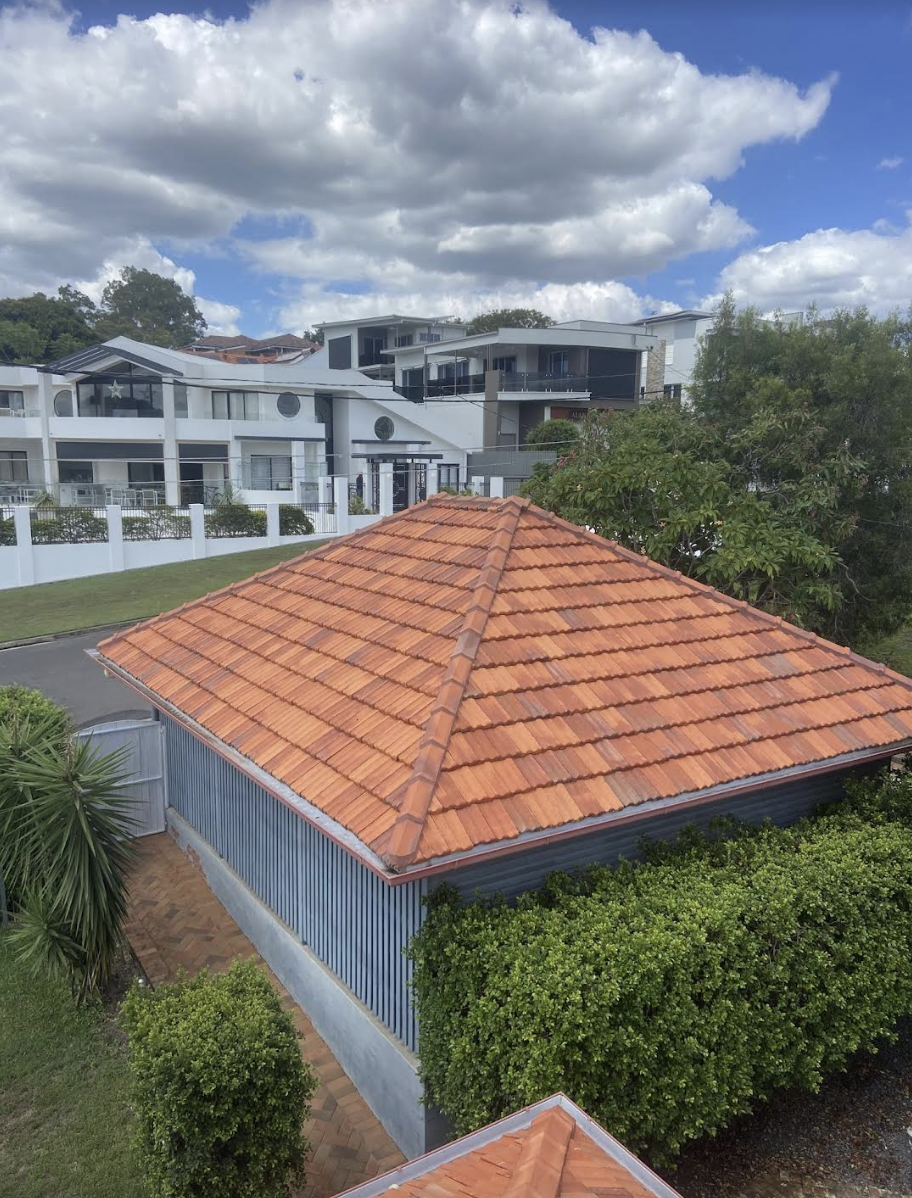 How Much Does Roof Cleaning Cost In Brisbane?
Understandably, this is one of the most frequent questions we receive. A quick Google search won't provide you with a definitive answer. The reason is simple: the cost varies on a project-by-project basis. We have to receive specific details before an accurate quote can be produced.
In general, there are three main factors that affect the cleaning cost for Brisbane properties. These are:
Roof materials
Roof design, size, and accessibility
Level of dirtiness
The material of your roof plays a big role in overall costings. Certain materials, like cement and iron, are easy to clean and relatively cost-efficient. However, other materials are more delicate, requiring additional care and attention during the cleaning process.
As for the roof's design, a flat, straightforward layout will generally cost a lot less than a roof that features an intricate design with complex sloping. A roof that is difficult to access and requires additional labour will also bump up the rates.
Generally, the dirtier the roof, the more it will cost to clean. If there is a significant build-up of dirt, moss, mould, etc., additional work is required to remove this and get your roof back in prime condition.
Get a quote today
Simply get in touch, provide us with a few details about your roof cleaning project, and we will provide you with a free quote today.
We service the whole of Brisbane and you're in safe hands with our 30-month guarantee. Remember, we also wash the exterior of houses across Brisbane too.
OUTSTANDING RESULTS. FAST AND RELIABLE SERVICE 7 DAYS A WEEK.
Call us on 1300 10 12 13 for a free, no obligation quote.