Over time our homes and roofs are exposed to a wide array of extreme and harsh elements. Our Roof Cleaning Brisbane service can help clean and protect your roof.
Brisbane's tropical environment is the perfect breeding ground for unsightly moss, algae, mildew, mould and lichen. If left, these formations can lead to long term and expensive damage.
Our Brisbane roof cleaning experts use a wide variety of methods to treat, contain and eradicate the causes of your unsightly roof.
Brisbane roof cleaning jobs are varied and require a firm understanding of how to treat each roof. Unlike a lot of roof cleaning businesses in Brisbane we use our tried and tested soft wash technique rather than damaging pressure washers.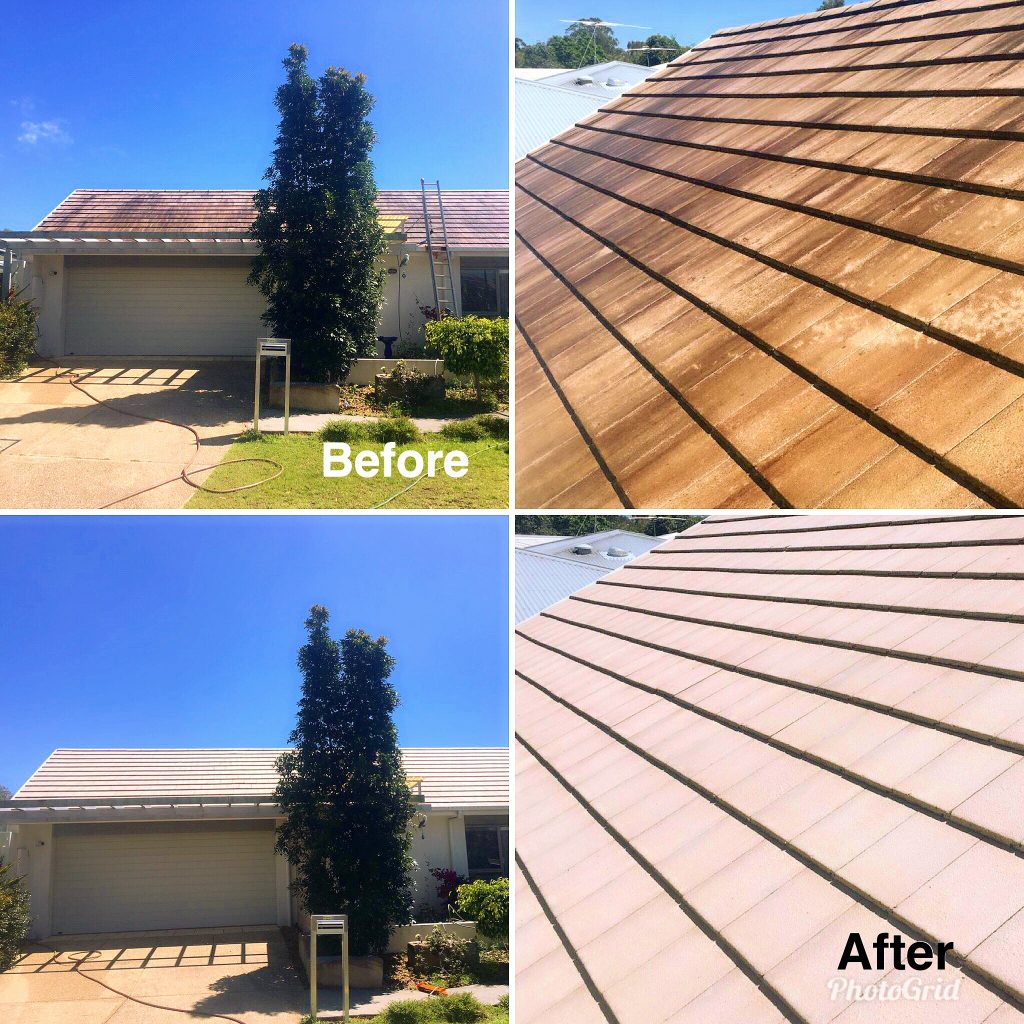 WHAT IS OUR BRISBANE ROOF CLEANING SOFT WASH?
The chemical blend is applied at low pressure and rinsed off with our whirlaway under low to medium pressure to safeguard the surface of your roof. This is especially important with painted roofs that may be left completely stripped using high pressure water blasting methods.
It will kill all mould and lichen spores that high pressure water on its own will not remove. This will increase the long term look of your roof, as the roof has been sanitised and will no longer be full of left over spores that will grow back, as they will with high pressure cleaning.
The two stage process we use will give instant results unlike some long duration chemical cleaning agents currently on the market that can take many months to start working.
Not every roof is equal. Whether you have Colourbond, tin, slate or tiled roofs, every surface has its own challenges and things you need to be aware of.
TIN AND COLOURBOND ROOFS
Our Brisbane roof cleaning solution is very much dependant of the type of surface your roof is made of. Tin and Colourbond roofs are long lasting but can be a magnate for mould. High pressure washers can strip your tin roof down to the bare metal. This gives mould and lichen the ideal breeding ground. It isn't uncommon for tin roofs that have been treated with pressure washers to deteriorate very quickly.
TILE AND SLATE ROOFS
The use of pressure washers on tile and slate roofs can cause damage to, not just the tile or slate, but the nails and cement used to secure it to the roof. Cracked tiles and slate can lead to water damage to the roof cavity of your house and ultimately very expensive repair work on internal ceilings.
WHY CHOOSE 1300 CLEANING GROUP FOR YOUR BRISBANE ROOF CLEANING JOB?
OUR 100% CUSTOMER GUARANTEE
We are so confident that you'll be completely satisfied by our Brisbane roof cleaning service that we offer a 100% guarantee. We will return to your property, for no additional charge, and complete the job to your total satisfaction in the unlikely event you're not satisfied first time!
OUR FIXED PRICE PROMISE
We've all been hit by nasty, hidden charges but we're like you, we hate them. When you get our roof cleaning quote, the price on the quote is what you pay. Not a cent more! We always offer a competitive and fair quote.
SAFETY
Cleaning roofs in Brisbane is our passion. Many of our customers have attempted to clean their own roofs without the correct safety equipment. We would never recommend you attempt to clean roofs by yourself.
1300 Cleaning Group offers a professional Brisbane roof cleaning service that is fully insured to $20,000,000 and take our and your safety very, very seriously. We are RIIWHS204D (Working At Heights Approved)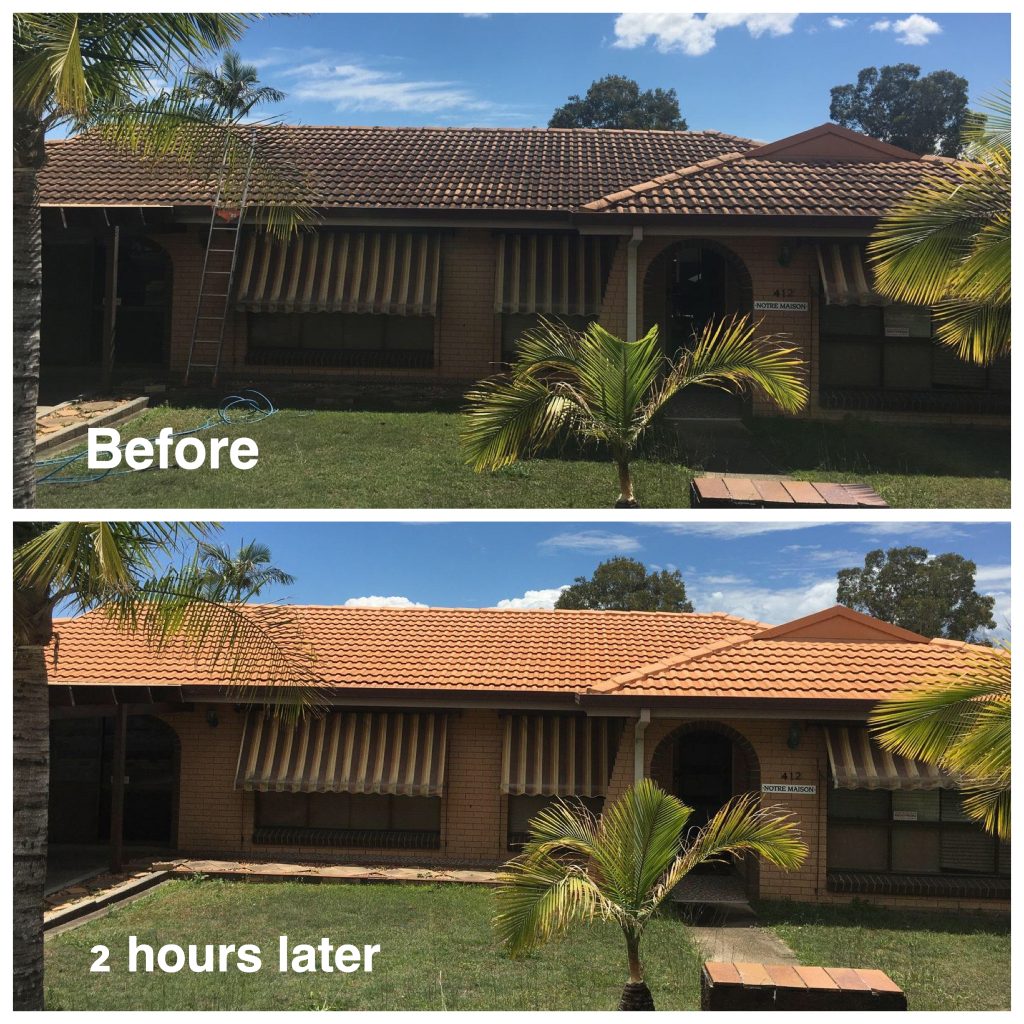 AREAS COVERED
Our roof cleaning service is available in every Brisbane suburb. We have cleaned roofs in North Lakes, Redcliffe, The Gap, Logan and everywhere in between.
If you're looking to get your Brisbane roof cleaned be sure to call 1300 10 12 13 and speak to one of our friendly team members Or, if you'd prefer, fill out the quick quote form below and we'll get back to you.
OUTSTANDING RESULTS. FAST AND RELIABLE SERVICE 7 DAYS A WEEK.
Call us on 1300 10 12 13 for a free, no obligation quote.