ROOF CLEANING SERVICES IN THE GOLD COAST
Prolong the life expectancy of your roof with our roof cleaning Gold Coast service.
Due to the frequent humidity experienced in Queensland, mould can begin to grow very quickly. Starting out invisible to the naked eye, mould will eventually grow into dark, almost black patches that may look like dark water streaks. If you notice one spot of mould on your roof, it's likely it will be growing elsewhere and it's imperative that you remove it immediately.
In addition to mould, lichen can also grow on your property's roof. Lichen holds onto moisture longer, reducing the longevity of your paint and is usually green or white in colour. At 1300 Cleaning Group, it's our aim to provide a superior roof cleaning Gold Coast service to help homeowners and renters revitalise their roofs and increase property value.
WE HAVE THE RIGHT TOOLS FOR THE JOB
Using the most advanced equipment and tools in the industry along with our tried and true cleaning methods, we are able to provide a roof cleaning service that will have them back to a new-like condition. By applying a chemical cleaning agent that is not harmful to your paint or tiles, family or pets, we are able to remove all build up quickly and efficiently and to an above average standard. This process does get quick loud and messy so we recommend that you cover any outdoor furniture and remove clothing from your washing line. We, of course, we clean up after ourselves, putting anything we have to move back to its place and removing anything that has fallen to the ground.
Your roof is always at the mercy of harsh Australian elements and, as such, we recommend regular roof cleaning services. If you would like to set up a schedule, please ask one of our friendly staff and we will endeavour to provide the best Gold Coast roof cleaning services.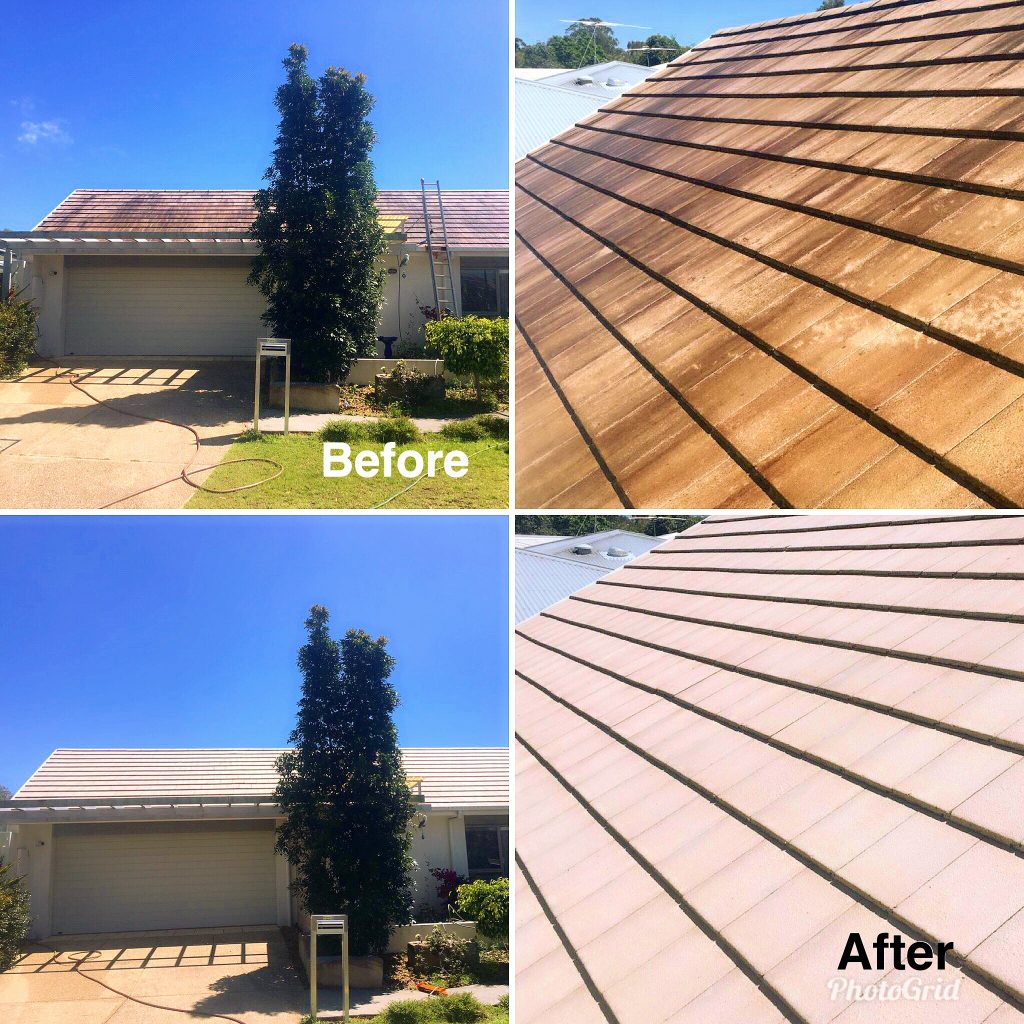 WHAT IS OUR GOLD COAST ROOF CLEANING SOFT WASH?

1300 Cleaning Group use a two stage cleaning method to perform your roof cleaning. Instead of blasting the roof with high-pressure water to strip the dirt away, we firstly apply a blend of chemicals to help break the bond of the dirt to the roof and also kill any lichen and mould spores. We then clean over the entire roof with a whirlaway specialised roof cleaning tool at a low to medium pressure to remove the grime and rinse the surface.
The 1300 Cleaning Group system is far better for your roof surface than high pressure blasting because:
The chemical blend is applied at low pressure and rinsed off with our whirlaway under low to medium pressure to safeguard the surface of your roof. This is especially important with painted roofs that may be left completely stripped using high pressure water blasting methods.
It will kill all mould and lichen spores that high pressure water on its own will not remove. This will increase the long term look of your roof, as the roof has been sanitised and will no longer be full of left over spores that will grow back, as they will with high pressure cleaning.
The two stage process we use will give instant results unlike some long duration chemical cleaning agents currently on the market that can take many months to start working.
TIN AND COLOURBOND ROOFS
Our Gold Coast roof cleaning solution is very much dependent of the type of surface your roof is made of. Tin and Colourbond roofs are long lasting but can be a magnate for mould. The use of high pressure washers can strip your tin roof down to the bare metal giving mould and lichen the ideal breeding ground. It isn't uncommon for tin roofs that have been treated with pressure washers to deteriorate very quickly.
TILE AND SLATE ROOFS
The use of pressure washers on tile and slate roofs can cause damage to, not just the tile or slate, but the nails and cement used to secure it to the roof. Cracked tiles and slate can lead to water damage to the roof cavity of your house and ultimately very expensive repair work on internal ceilings.
WHY CHOOSE US FOR YOUR GOLD COAST ROOF CLEANING JOB?
OUR 100% CUSTOMER GUARANTEE
We are so confident that you'll be completely satisfied by our Gold Coast roof cleaning service that we offer a 100% guarantee. We will return to your property, for no additional charge, and complete the job to your total satisfaction in the unlikely event you're not satisfied first time!
OUR FIXED PRICE PROMISE
We've all been hit by nasty, hidden charges but we're like you, we hate them. That's why, when you get a quote from 1300 Cleaning Group for your Gold Coast roof cleaning job, the price on the quote is what you pay. Not a cent more! We always offer a competitive and fair quote.
SAFETY
Cleaning roofs in Brisbane is our passion.
Cleaning roofs in the Gold Coast is our passion. Many of our customers have attempted to clean their own roofs without the correct safety equipment. We would never recommend you attempt to clean roofs by yourself.
1300 Cleaning Group offers a professional Gold Coast roof cleaning service that is fully insured to $20,000,000 and take our and your safety very, very seriously. We are RIIWHS204D (Working At Heights Approved).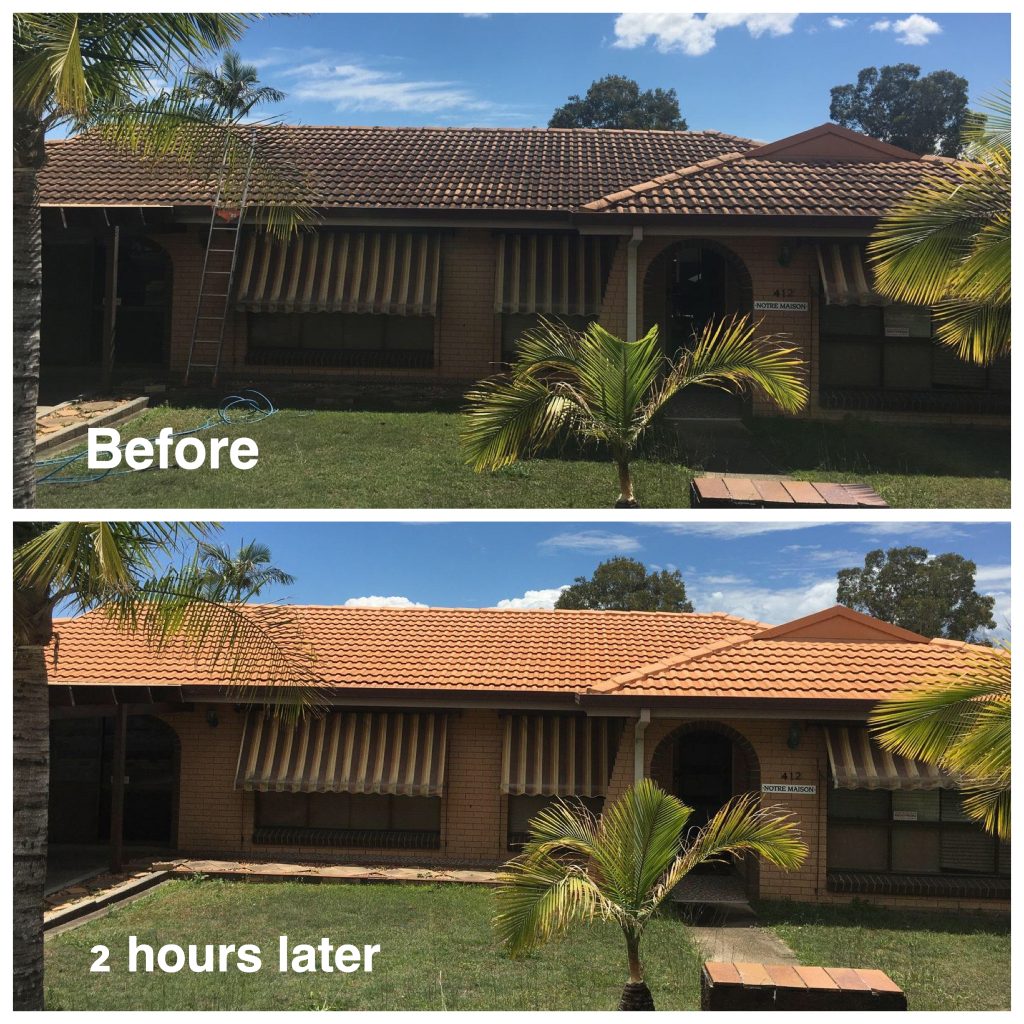 AREAS COVERED
Our roof cleaning service is available in every Brisbane suburb. We have cleaned roofs in Bundall, Broadbeach, Labrador, Helensvale, Southport, Miami and everywhere in between.
If you're looking to get your Gold Coast roof cleaned be sure to call 1300 10 12 13 and speak to one of our friendly team members in our permanently manned local office. Or, if you'd prefer, fill out the above enquiry form and we'll get back to you as soon as we can.
OUTSTANDING RESULTS. FAST AND RELIABLE SERVICE 7 DAYS A WEEK.
Call us on 1300 10 12 13 for a free, no obligation quote.