Avoid the hassle of keeping your gutters clean. Contact the professionals at 1300 Cleaning Group for convenient gutter cleaning Gold Coast. With four fully-equipped vehicles on the road every day across the Gold Coast, we're just a short trip away. Simply call our fully staffed office to schedule the finest Gold Coast gutter cleaning service possible.
Why Is Gutter Cleaning Important?
Firstly, gutter cleaning protects your roof, gutters, and the rest of your property. Some of the risks of clogged or damaged gutters include:
Premature rusting
Increased fire risk
Roof damage
Water damage
Insect & other animal infestation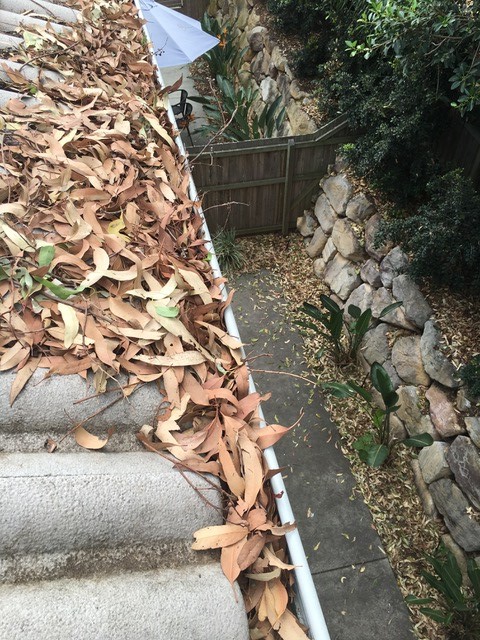 Allowing debris to collect reduces the life of your gutters. The leaves, mud, and sludge cause premature rusting. The gutters may eventually warp or sag. Rust holes may also appear. These issues limit the ability of your gutters to direct rain away from the foundation.
When water drains along the sides of your property, it attempts to penetrate the foundation. Moisture can find its way in through small crevasses, leading to leaks and moisture problems. Severe drainage issues may even cause structural damage to the foundation.
Rust and sagging gutters may also result in the need to replace your gutters. Gutter replacement is a costly process compared to routine gutter cleaning. Along with avoiding gutter replacement, frequent cleaning is needed to prevent fire hazards during bushfire season.
During dry times, a buildup of leaves increases the risk of fire due to the gap between the tiles and the gutter. The gap creates access to the roof cavity. Due to this risk, some, but not all, insurance policies require the regular removal of debris from the gutters.
Why Choose 1300 Cleaning Group to Clean Your Gold Coast Gutters?
1300 Cleaning Group is your source for reliable, affordable gutter cleaning. We are an established business with years of experience. As a local business, we've built our customer base by offering superior service from start to finish. We are always prompt, reliable, and professional.
Our gutter cleaning Gold Coast services allow you to avoid the difficult task of cleaning the gutters yourself. Cleaning gutters is often a dirty and time-consuming process. It can also be risky and dangerous, which is why many homeowners put it off for too long.
Instead of letting leaves and debris accumulate in your gutters, contact us. Cleaner gutters are just a phone call away.
Here a few additional reasons to contact us for your gutter cleaning needs:
Quality equipment and reliable practices
Highly trained, professional staff
Convenient scheduling
Competitive, affordable prices
No hidden fees or charges
Exterior cleaning services
We use the best equipment and latest techniques for safely and efficiently cleaning your gutters. Our staff arrives with the most powerful and state-of-the-art gutter vacuuming system. It delivers outstanding results in every situation.
Our staff is also highly trained, courteous, and uniformed. All our cleaning technicians hold Working at Heights certification to meet WHS requirements and ensure safe work. We also work around your schedule. You do not even need to be home for us to clean your gutters. We have four vehicles on the road across the Gold Coast, ensuring that we can reach you quickly.
On contacting us, you are also guaranteed to receive affordable prices with no hidden fees. Our services are competitively priced and available to residents throughout the whole Gold Coast region, including every suburb meaning we can service every gutter cleaning Gold Coast enquiry!
We are also your source for additional cleaning services. We are experts at exterior property washing Gold Coast, solar cleaning Gold Coast, and roof cleaning Gold Coast. Along with keeping your gutters free of debris, can clean the rest of the exterior of your home or office.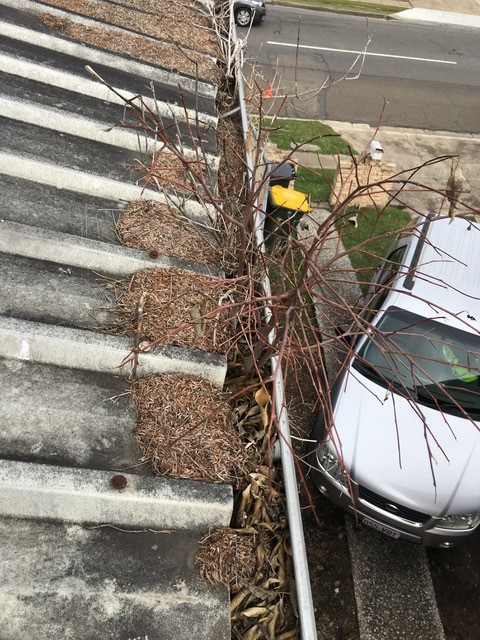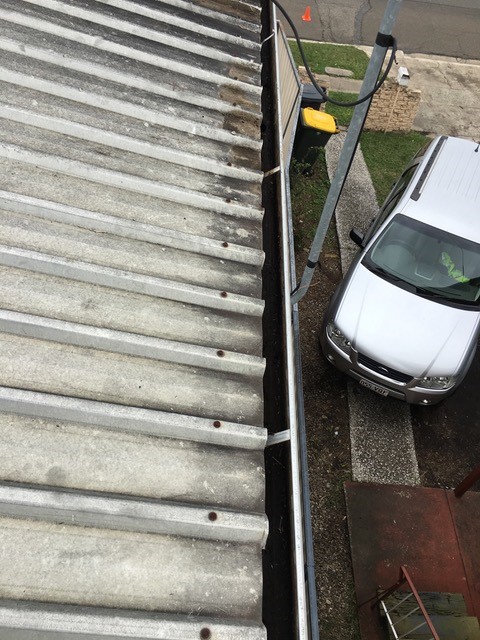 What Is Involved in Gold Coast Gutter Cleaning?
For years, Gold Coast gutter cleaning was done by hand. Homeowners got up on ladders and scooped out the debris with glove-covered hands. However, that method left sludge behind, especially when cleaning narrow gutters.
Leaf blowing eventually became a popular method due to its convenience. Using a leaf blower allows you to blow the leaves and debris out of the gutters but it does not get to the leaves at the back of the gutters. With narrow gutters, it becomes even more of a challenge to fully clear the debris. Another drawback to leaf blowing is the mess created by the leaf blower. Using a leaf blower scatters debris around the yard.
Pressure washing offers more power for getting the leaves and debris at the back of the gutters. However, it can also damage older gutters and makes a mess of your property due to the mud.
At 1300 Cleaning Group, we use gutter vacuuming to clean your gutters more thoroughly and efficiently. We use a crevice tool to get into narrow gutters and remove all the leaves, mud, and sludge without leaving a mess or causing damage to any area of the property. The mess is sucked into your machine and disposed of into green waste at council facilities.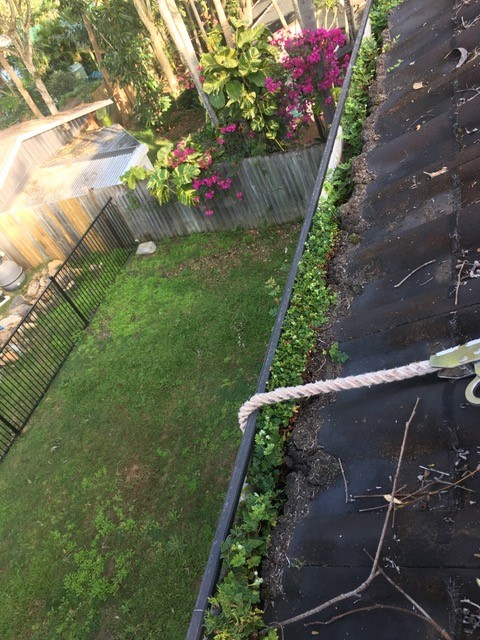 How Often Should I Get My Gold Coast Gutters Cleaned?
Periodic gutter cleaning is essential for good gutter maintenance. However, the frequency of cleaning depends on the environment. In most residential areas, customers may get their gutters cleaned once or twice per year. Customers in heavily wooded areas often get their gutters cleaned every three months. The abundance of trees results in additional leaves and twigs in the gutters.
Other areas may only require cleaning every six months. Areas with almost no trees may only require gutter cleaning every 24 months.
After we undertake a gutter clean, our staff can advise you on the best period based on what they find, such as the number of trees in the area. In addition, our staff are fully trained and provide honest advice. The frequency of the cleaning is not an attempt to gain more business, as our staff are regularly checked to assure integrity.
Are Chemicals Used in Gutter Cleaning?
Our normal gutter cleaning services do not include the use of chemicals. However, customers may request the use of chemical cleaning agents for specific reasons. Safety is a priority for us and our staff. We are qualified, fully insured professionals that follow all safety regulations. If a chemical solution is safe to use, we will certainly fulfil your requirements.
How Much Does Gold Coast Gutter Cleaning Cost?
The average price ranges from $198 to $225 (including GST) for a structure with a standard roof pitch with good access to the gutters. However, gutter cleaning prices vary depending on several factors, including the height of the building, the pitch of the roof, and accessibility to the areas that need cleaning.
Due to the variety of conditions, we always view your property before quoting a price. We use a mapping system in our office to give you accurate pricing for your specific property. As a customer, you will receive the best value, as we price our services competitively. We also provide a fixed price promise. We understand the annoyance of hidden charges, which is why the quote you receive is what you pay.
Book Your Gold Coast Gutter Cleaning Today
We aim to make gutter cleaning more convenient, which is why our office staff are always here to help you. In other words, we respond quickly to all enquiries, ensuring that you receive smooth, first-class service. Above all, whether you call our office or submit an online enquiry, we can quickly find a date and time to suit your schedule. Our staff use state-of-the-art scheduling software to ensure we never double book and can service your request quickly and efficiently.
In addition, you don't need to be home for us to complete your gutter cleaning. Our technicians can take photos to document their work. Finally, the photos, along with the invoice for your payment, are then sent to you. It's that simple!
If you want to protect your home from the risks associated with clogged gutters, schedule your gutter cleaning today. Contact us to book your Gold Coast gutter cleaning from the 1300 Cleaning Group – The local, Aussie owned Gold Coast gutter cleaning experts!
OUTSTANDING RESULTS. FAST AND RELIABLE SERVICE 7 DAYS A WEEK.
Call us on 1300 10 12 13 for a free, no obligation quote.