WHY CHOOSE 1300 CLEANING GROUP FOR YOUR BRISBANE SOLAR CLEANING?
We believe in our Brisbane Panel Solar Cleaning service so much we now offer all of our roof cleaning customers a 12-month guarantee! Yes, that's right, a twelve month guarantee!  Take a look at our Brisbane Solar Panel Cleaning guarantee page for more information.
We offer a high quality solar panel cleaning service that will have your panels spot free clean and producing maximum power production.
To safeguard your panels, we use a mild detergent with added lanolin in the cleaning process. This helps lubricate the panels whilst they are being cleaned and minimizes the risk of scratching the glass that can occur when using the normal de-ionised water and brush method offered by many other cleaning contractors. It also gives the panels a better finish and leaves them sparking like new with a polished finish to enable water to bead effectively and remove dirt when it next rains.
We are customer focused, prompt, reliable, competitively priced, professional and good at our job!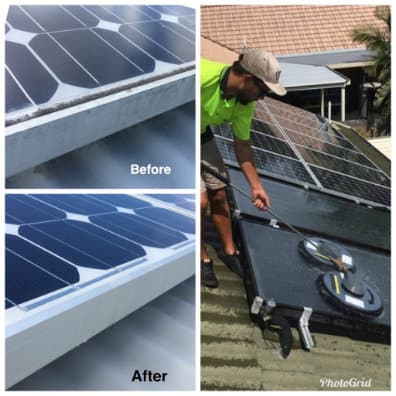 OUR 100% CUSTOMER GUARANTEE
We are so confident that you will be completely satisfied by our Brisbane solar cleaning service that we offer a 100% guarantee. We will return to your property, for no additional charge, in the unlikely event that you are not satisfied first time.
OUR FIXED PRICE PROMISE
We have all been hit by nasty, hidden charges but we are like you, we hate them. That's why when you get a quote from 1300 Cleaning Group for your Brisbane solar cleaning job, the price on our competitive and affordable quote is what you pay.
SAFETY
Attempting to clean your own solar panels can be difficult and time consuming, risky and dangerous with serious consequences.
We are qualified and trained professionals with our own safety equipment, and are fully insured to $ 20,000,000. 1300 Cleaning Group Brisbane solar cleaning technicians all hold a Working at Heights Certification.
AREAS COVERED
We work across the whole Brisbane region, covering every suburb.
If you are looking to get your Brisbane solar cleaned, be sure to fill out our enquiry form and we'll get back to you promptly or if you prefer to speak to one of our friendly team, in our permanently manned office, call us on 1300 10 12 13
OUTSTANDING RESULTS. FAST AND RELIABLE SERVICE 7 DAYS A WEEK.
Call us on 1300 10 12 13 for a free, no obligation quote.