At 1300 Cleaning Group, we strongly support green technology and believe solar energy has become one of the most economically viable and environmentally friendly solutions that help us work toward a sustainable future. To help ensure the longevity and efficiency of your solar panels, and therefore support a greener environment, we offer a Brisbane solar cleaning service with the German-made iSolarsystem. With this system, we can get your solar panels back to peak performance, generating 5 – 30% electricity through your panels to reduce your power bills and safeguard you from risks.
Just like when a window gets dirty and it becomes hard to see through, solar panels covered in debris make it difficult for the sun to penetrate. Fossil fuels, leaves, moisture, even animal waste can all cause build up on your solar panels and make them less efficient, causing your power bills to raise – the opposite reason to why you installed them.
With the latest technologies, the best and safest chemicals on the market, and good old-fashioned hard work, we have built a reputation as leaders in Brisbane solar cleaning. Committed to environmentally-friendly and non-toxic solutions, you can trust that our products will not harm yourself, your family or your pets!
Our Brisbane solar cleaning service is available to residential, commercial and industrial clients including real estate agents and body corporate. Please contact us today on 1300 10 12 13 for a free quote with no hidden costs to ensure peace of mind.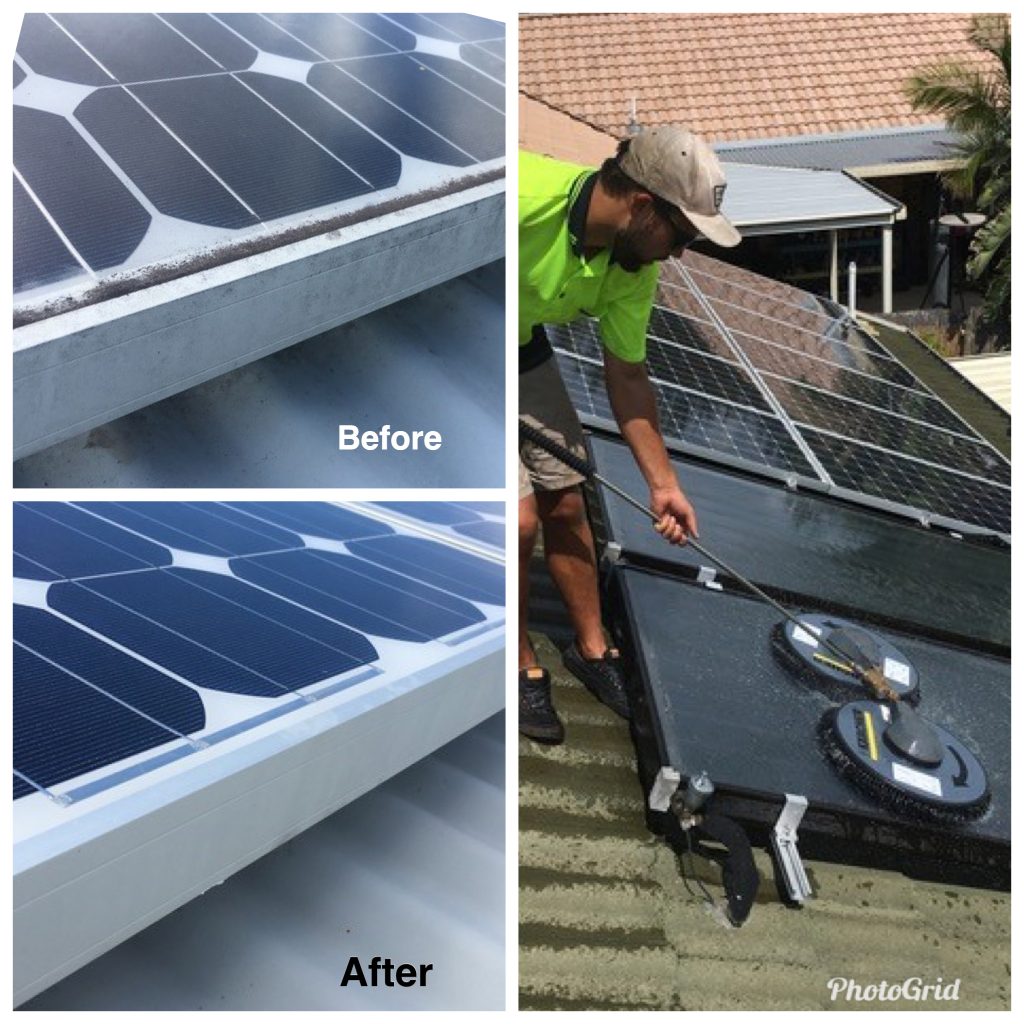 ABOUT OUR SOLAR CLEANING BRISBANE PROCESS
We are proud to use the German-made iSolarsystem. In comparison to other cleaning procedures that simply use a broom and hose to brush away the dirt, our iSolarsystem has been designed to mechanically clean the face of the panels with two counter-rotating brush heads and a water flow rate of 22 litres per minute.
To further ensure an efficient clean that will not cause damage to your solar panels, we use a mild detergent with added lanolin. This detergent helps to lubricate the panels during the cleaning process to minimise the risk of scratching of the glass that can occur when using the normal de-ionised water and brush method. It will also leave your solar panels sparkling with a polished finished, enabling water to bead effectively and remove dirt when it next rains.
Our Brisbane Solar Cleaning process will also include a visual solar system check to ensure there are no defects or poor workmanship already taking place and disrupting the full functionality of your solar panels. When our job is complete, we will send before and after photos to you as part of our full report and if you are not satisfied with the outcome, we will return to rectify it, free of charge.
WHY CHOOSE 1300 CLEANING GROUP FOR YOUR BRISBANE ROOF CLEANING JOB?
OUR 100% CUSTOMER GUARANTEE
We are so confident that you'll be completely satisfied by our Brisbane roof cleaning service that we offer a 100% guarantee. We will return to your property, for no additional charge, and complete the job to your total satisfaction in the unlikely event you're not satisfied first time!
OUR FIXED PRICE PROMISE
We've all been hit by nasty, hidden charges but we're like you, we hate them. That's why, when you get a quote from 1300 Cleaning Group for your Brisbane roof cleaning job, the price on the quote is what you pay. Not a cent more! We always offer a competitive and fair quote.
SAFETY
Cleaning roofs in Brisbane is our passion. Many of our customers have attempted to clean their own roofs without the correct safety equipment. We would never recommend you attempt to clean roofs by yourself.
1300 Cleaning Group offers a professional Brisbane roof cleaning service that is fully insured to $20,000,000 and take our and your safety very, very seriously. We are RIIWHS204D (Working At Heights Approved)
AREAS COVERED
Our roof cleaning service is available in every Brisbane suburb. We have cleaned roofs in North Lakes, Redcliffe, The Gap, Logan and everywhere in between.
If you're looking to get your Brisbane roof cleaned be sure to call 1300 10 12 13 and speak to one of our friendly team members in our permanently manned local office. Or, if you'd prefer, fill out the quick quote form below and we'll get back to you as soon as we can.
OUTSTANDING RESULTS. FAST AND RELIABLE SERVICE 7 DAYS A WEEK.
Call us on 1300 10 12 13 for a free, no obligation quote.