Eliminate the signs of an aging home with 1300 Cleaning Group's House Washing Gold Coast Service. Dedicated to achieving outstanding house washing results using our Soft Washing system, we can have the exterior of your house looking like new. We provide Gold Coast house washing services to residential, commercial and industrial clients including real estate agents and body corporate.
While it's possible to take exterior house washing in your own hands, we recommend having a professional team do the job. Often, homeowners and renters tend to hire high-pressure cleaners which can strip the surface of your walls. With this belief that high-pressure cleaners can cause further damage to the paint or walls of your home, we use soft washing techniques with mould and spider treatments that last up to twelve months. This produces a thorough but gentle clean to the exterior of your home.
Understanding that the exterior of your home provides first impressions, our house washing services are designed to give your property curb appeal. At 1300 Cleaning Group, our cleaning solution is designed to break down harmful materials that build up over time, making your walls look unclean and causing your paint to deteriorate. With our soft washing service, we guarantee to wash away and deter further mildew, grime and mould build up, extend the life of your paintwork, increase the value of your property (as well as help it sell faster), and ease health issues such as asthma and allergies.
By utilising the latest technologies, the best and safest chemicals on the market, and good old-fashioned hard work, we have built a reputation as leaders in exterior house washing services on the Gold Coast. Committed to environmentally-friendly and non-toxic solutions, you can trust that our products will not harm yourself, your family or your pets!
Whether you need a general wash down for dust, dirt and grime or to combat the mould that has grown and lurks on a particular surface, 1300 Cleaning Group can help.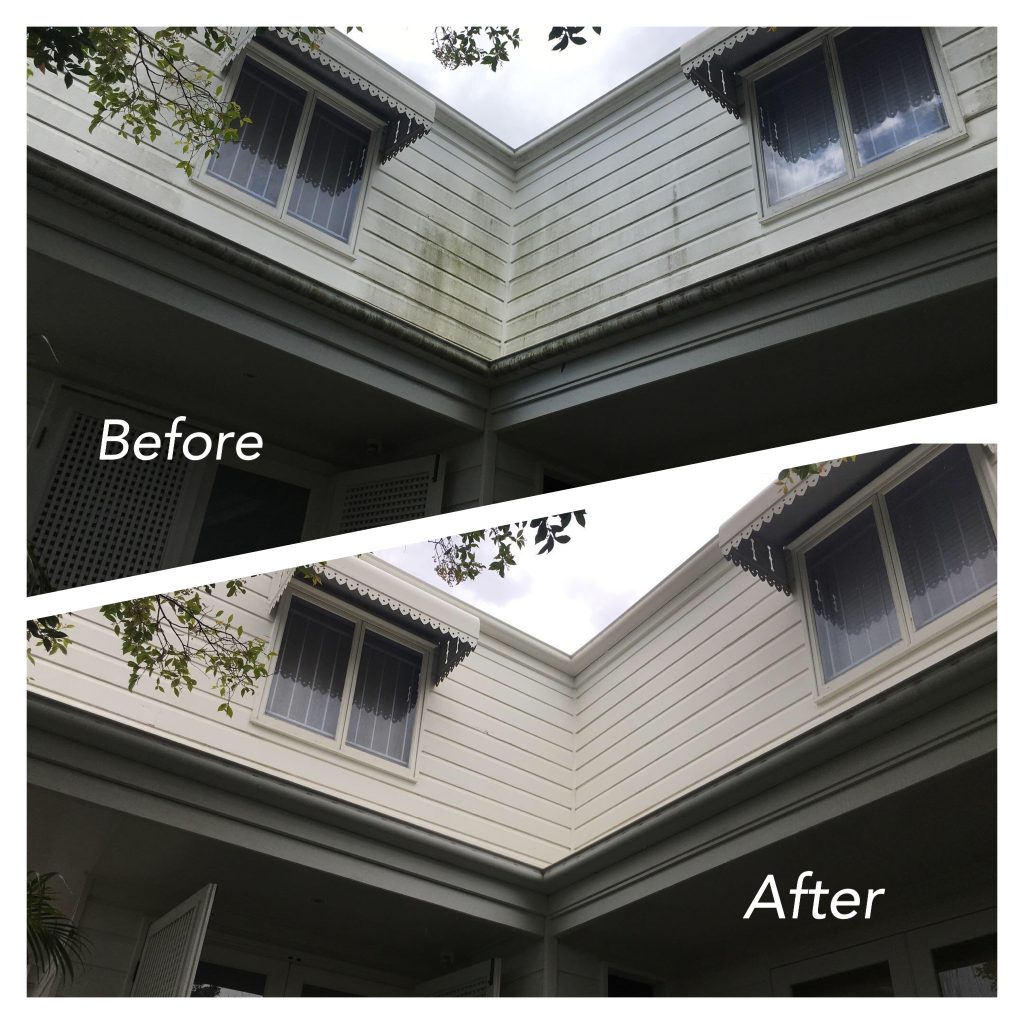 ABOUT OUR GOLD COAST HOUSE WASHING
Upon arrival, our team will firstly spray your property with our cleaning solution of gentle chemicals. This will be left to sit for a few minutes to allow the solution to reach all the little cracks and crevices and help break down the dirt and grime. This also kills the algae, mould, bacteria and other contaminants that have built up over time. The surface is then washed down with a fine mist of fresh water to thoroughly rinse away all the dirt, leaving your home or property clean and safe from the damage that can be caused by other house washing methods.
Once cleaned, our team will then inspect their work to ensure our house washing is complete. Upon completion, we will tidy up and leave everything just as we found it, except for one important improvement…a clean property.
Please Note: Before we begin our process, we highly recommend moving or covering any outdoor furniture, particularly electronics and non-waterproof items. We also advise that you remove any clothes from your washing line even if we are not working near it as the wind can carry the cleaning solution.
WHY CHOOSE US FOR YOUR GOLD COAST HOUSE WASHING JOB?

OUR 100% CUSTOMER GUARANTEE
We are so confident that you'll be completely satisfied by our Gold Coast House Washing service that we offer a 100% guarantee. We will return to your property, for no additional charge, and complete the job to your total satisfaction in the unlikely event you're not satisfied first time!
OUR FIXED PRICE PROMISE
We've all been hit by nasty, hidden charges but we're like you, we hate them. That's why, when you get a quote from 1300 Cleaning Group for your Gold Coast House Washing job, the price on the quote is what you pay. Not a cent more! We always offer a competitive and fair quote.
SAFETY
House Washing in the Gold Coast is our passion. Many of our customers have attempted to clean their own roofs without the correct safety equipment. We would never recommend you attempt to clean roofs by yourself.
1300 Cleaning Group offers a professional Gold Coast House Washing service that is fully insured to $20,000,000 and take our and your safety very, very seriously. We are RIIWHS204D (Working At Heights Approved)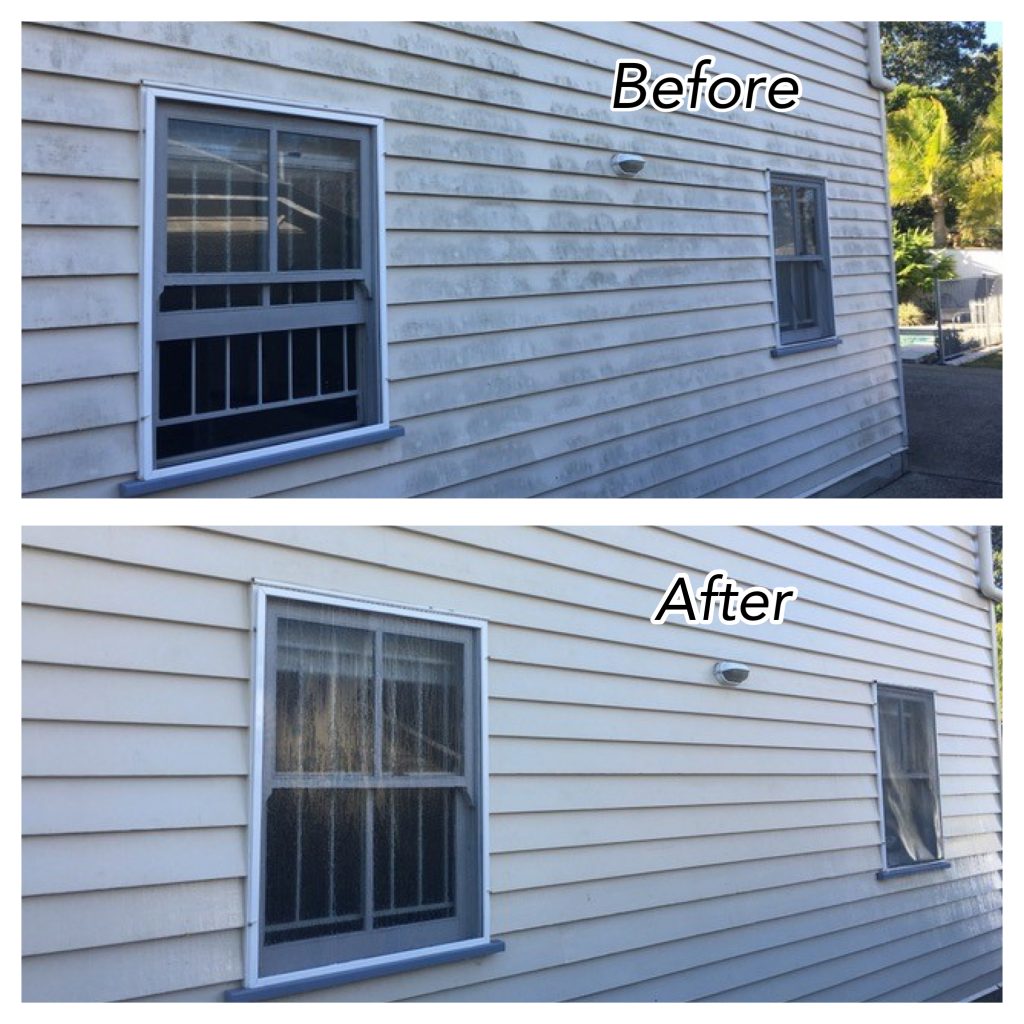 AREAS COVERED
Our roof cleaning service is available in every Brisbane suburb. We have cleaned roofs in North Lakes, Redcliffe, The Gap, Logan and everywhere in between.
If you're looking to get your Brisbane roof cleaned be sure to call 1300 10 12 13 and speak to one of our friendly team members in our permanently manned local office. Or, if you'd prefer, fill out the quick quote form below and we'll get back to you as soon as we can.
OUTSTANDING RESULTS. FAST AND RELIABLE SERVICE 7 DAYS A WEEK.
Call us on 1300 10 12 13 for a free, no obligation quote.