WHY CHOOSE 1300 CLEANING GROUP FOR YOUR IPSWICH HOUSE WASHING?
We firmly believe in our Ipswich House Washing service, and we now offer a 12-month guarantee to all our roof cleaning customers! Yes, you read that correctly—a twelve-month guarantee! Visit our House Washing Ipswich guarantee page for more information.
Your house's exterior represents the first impression people get. Opting for professional house washing can save you time and money in the long run. We often hear from customers who contemplate repainting their houses instead of opting for a wash. These very customers are astonished by the remarkable results we achieve at a fraction of the cost of repainting, thanks to our Ipswich House Washing service.
We consistently deliver outstanding results for our customers using our Soft Washing system, complete with mold and spider treatment.
What To Anticipate
Upon arrival, our team will spray your property with our gentle chemical cleaning solution. This solution will sit for a few minutes, allowing it to penetrate all the nooks and crannies, effectively breaking down dirt and grime. It also eliminates algae, mold, bacteria, and other contaminants. We then rinse the surface thoroughly with a fine mist of fresh water to remove all traces of dirt, leaving your home or property clean and protected from potential damage associated with other house washing methods.
Our team will then inspect their work meticulously to ensure your house is completely clean. We will tidy up and leave everything just as we found it, with one important improvement—A Clean House.
We prioritize customer satisfaction, promptness, reliability, competitive pricing, professionalism, and excellence in our work!
Whether you require a general washdown or a pre-paint wash, 1300 Cleaning Group stands as your trusted Ipswich House Washing expert.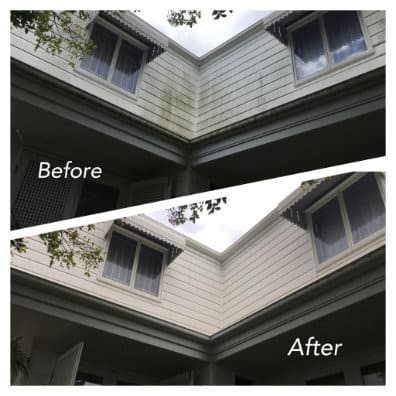 PEST REMOVAL
As part of our Ipswich house washing process, we always remove wasps' nests and spiders' webs that we often find when washing houses in Ipswich.
MOULD REMOVAL
Most houses in Ipswich suffer from a degree of mould. It is unsightly and can cause long lasting and long-term issues to most exterior surfaces. We take great care to remove all signs of mould using our state of the art techniques.
PRE-SALE PROPERTY CLEANING
Thinking of selling or renting your Ipswich property? We all know first impressions count!
We offer an individual service or a comprehensive package that includes house washing, roof cleaning, gutter cleaning, solar panel cleaning as well as exterior surface cleaning like floors or fences.
1300 Cleaning Group will ensure your property looks its best when potential buyers and renters come to view.
OUR 100% CUSTOMER GUARANTEE
We are so confident that you will be completely satisfied by our Ipswich house washing service that we offer a 100% guarantee. We will return to your property, for no additional charge, in the unlikely event that you are not satisfied first time.
OUR FIXED PRICE PROMISE
We have all been hit by nasty, hidden charges but we are like you, we hate them. That's why when you get a quote from 1300 Cleaning Group for your Ipswich house washing service, the price on our competitive and affordable quote is what you pay.
SAFETY
Attempting to clean your own home can be dirty and time consuming without the desired effect you were hoping for.
We are qualified and trained professionals with our own safety equipment, and are fully insured to $ 20,000,000. 1300 Cleaning Group Ipswich house washing cleaning technicians all hold a Working at Heights Certification.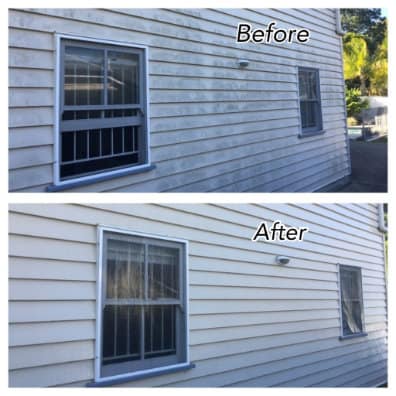 AREAS COVERED
We work across the whole Ipswich region, covering every suburb. Live between Ipswich and Brisbane? Not a problem! We offer Brisbane roof cleaning and house washing Brisbane options. We also offer roof cleaning, house washing and gutter cleaning services on the Gold Coast!
If you are looking to get your Ipswich solar cleaned, be sure to fill out our enquiry form and we'll get back to you promptly or if you prefer to speak to one of our friendly team, in our permanently manned office, call us on 1300 10 12 13
OUTSTANDING RESULTS. FAST AND RELIABLE SERVICE 7 DAYS A WEEK.
Call us on 1300 10 12 13 for a free, no obligation quote.